Using the Save Image option
To save your image, follow these steps:
1.
From the
File
menu, select
Save Image
. The following window opens, prompting you to confirm the request: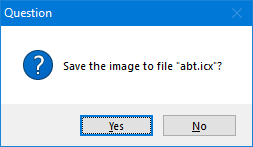 2.
Select
Yes
to save the image or
No
to cancel the request.
When you select
Yes
, the system saves to the file named
abt.icx
located in the directory on your workstation where most of your product files reside.
Last modified date: 03/13/2019