Example: Creating the subapplication DevelopStopwatch
When completed,
DevelopStopwatch
displays the following when you open an instance of its defined class
Stopwatch
: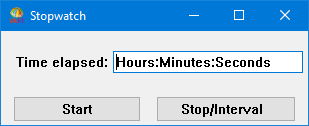 Selecting the
Start
push button begins the timer and displays
00:00:00
in the
Hours:Minutes:Seconds
text pane. Selecting
Stop/Interval
displays the elapsed time in the text pane. (You can select
Stop/Interval
repeatedly.) To stop the timer, you must close the window.
Last modified date: 02/26/2019